What is Loomis's Sustainability Policy?
Loomis's sustainability policy has Board level oversight. The sustainability platform is owned by Loomis CEO, and each Country President is responsible for compliance and proactive administering of the policy within the branches of their respective country. In the event of a direct violation of the policy, Loomis will take action to rectify the situation.
Read more about Loomis' Sustainability Policy here.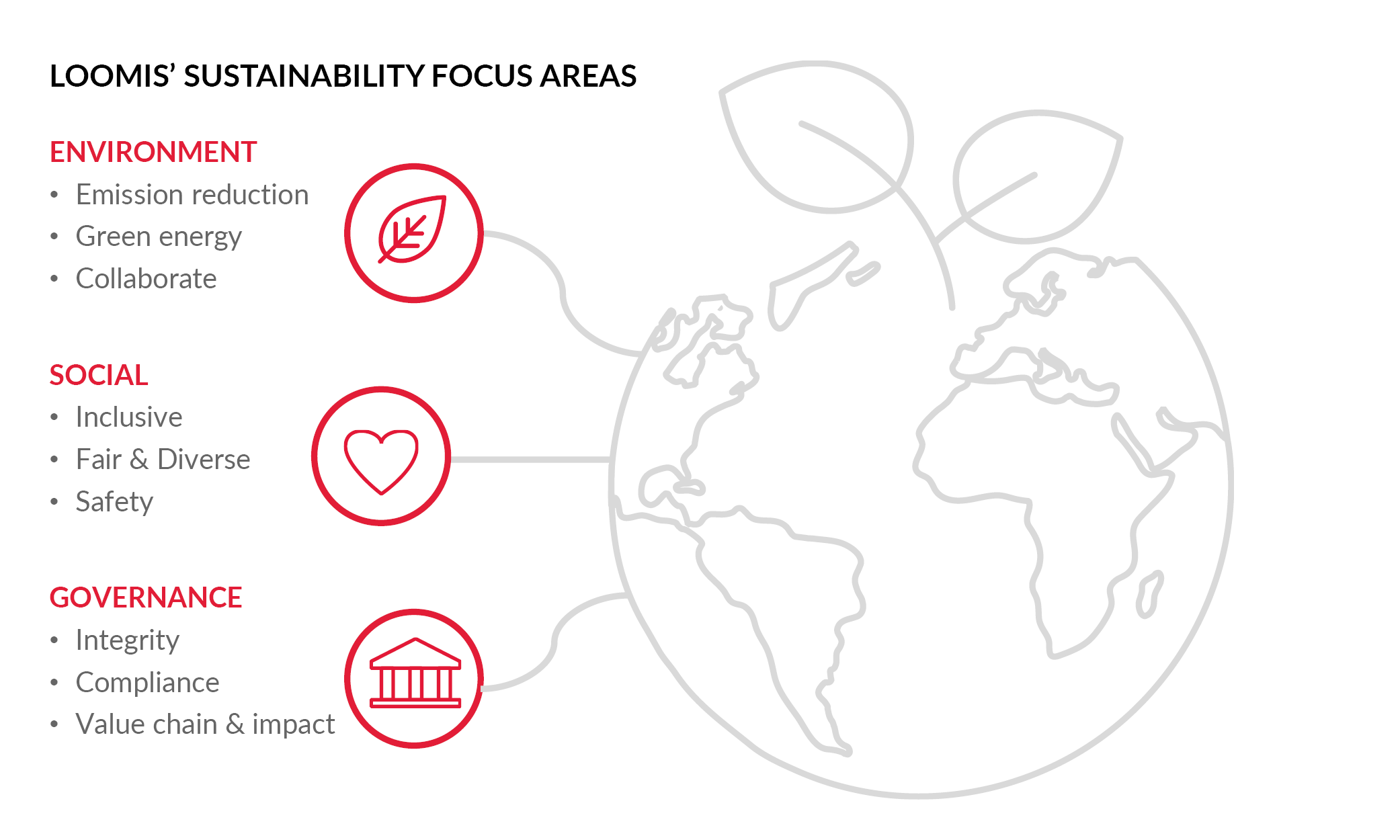 How often does Loomis report on its sustainability efforts?
Loomis's goal is to always be transparent with our investors, customers, and employees. Therefore, we release a new sustainability report annually, and there is a sustainability section included in each quarterly report
Download Our Sustainability Report
In addition to releasing an annual report, Loomis AB has issued a sustainability-linked bond loan to Svensk Exportkredit (SEK) of SEK 300 million. The bond loan is an industry first and has a term of four years, and will be fully matured in June 2026. The bond loan is linked to Loomis' sustainability-linked financing framework and is connected to the outcome of the sustainability target of reducing Loomis' carbon dioxide emissions by 20 percent by 2025 compared with the 2019 level.
Click here to read more.
Sustainability Strategy Period 2022-2024
Loomis started a new strategy period during the first quarter of 2022 and will go through 2024. The sustainability framework and goals have been further developed to focus on reducing climate impact, becoming an increasingly inclusive company, and remaining a reliable partner that maintains the highest standard of integrity and compliance.
2022-2024 Sustainability Goals
Environment: 15 percent reduction of CO2 emissions
Social Responsibility: Reduce work injury rate by 15 percent
Governance: Continue focusing on openness and transparency
Learn more about Loomis's sustainability framework here.
2017 – 2021 Strategy Period Achievements
Increased number of electrical vehicles in the Loomis US fleet
Installed solar panels on operational buildings in some countries
Reduced plastic consumption by 30 percent
Reduced CO2 emissions by 18 percent
Decreased injuries from traffic and violence by 40 percent